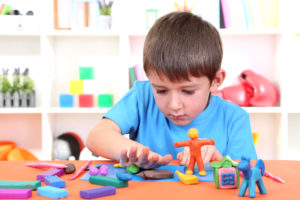 Thera-Peds is a multi-disciplinary center that provides comprehensive pediatric Occupational Therapy, Physical Therapy, Speech Therapy and Feeding Therapy in a comfortable and child-friendly environment.  We strive to improve the lives of children and families with knowledge and expertise in a fun filled environment.  We believe children deserve every opportunity when it comes to their futures, and Thera-Peds therapists take pride and care to make sure those opportunities are in reach.  Our philosophy is to treat the whole child and work with parents and caregivers to provide the tools they can use to help their child reach their goals and achieve successful, fulfilling lives.
Our team of licensed pediatric occupational therapists, physical therapists and speech-language pathologists are dedicated to providing the highest quality services to children with all levels of disabilities in our wonderful facility in Shelby Township.  In partnership with parents and caregivers, our highly qualified team works to create an effective treatment program for each child and family.
We are excited to be able to provide these personalized services and remain open to any needs our clients have that would assist them in helping their child reach their greatest potential!
---