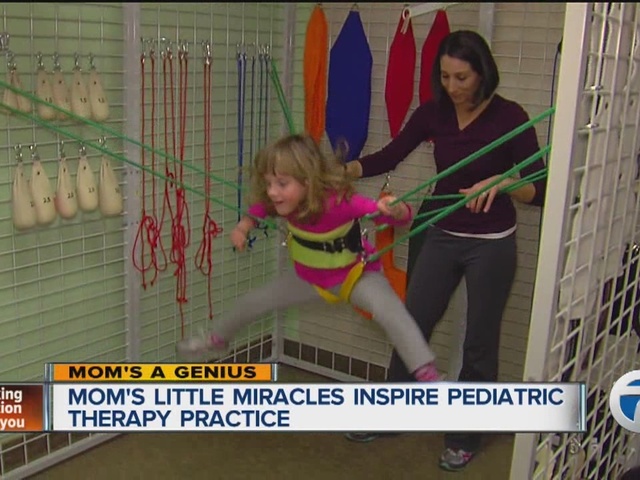 SHELBY TOWNSHIP, Mich. (WXYZ) – Cathy Kelley calls them her miracles. Mallory and Bridget are her twin 7-year-olds.
"They were born at 25 weeks," she says. Mallory was 1 pound 11 ounces, Bridget weighed 1 pound 9 ounces.
They spent some five months in the Neo-natal intensive care unit. After many scares and surgeries, the girls were finally able to come home. It was then, Cathy says, the real journey began. As the girls grew, their disabilities became clear. Both girls have Cerebral Palsy, Mallory's case much more limiting. She's non-mobile and non-verbal.
Visits to doctors, and therapy appointments became the norm, but between wait lists finding the right therapist wasn't always easy.
"I said to my husband we should just open our own place. And he took it to heart, and we started doing research and about 18 months later, we opened Thera-peds." They opened their doors at their clinic in Shelby Township last June. She has nine therapists on staff, her dream team. Thera-Peds offers occupational, physical and speech therapy to young patients. Cathy quit her job as a probation officer to run Thera-Peds. Make no mistake, she's not a therapist, in the traditional sense.
"When I get a phone call from a mom, and I hear that frustration and that stress in her voice… I can relate to that," she says. "And I tell her to take a deep breath, I'm going to walk you through all of this. I hear a lot you don't understand. Well I do understand, and I tell them my story."
Action news first profiled the Kelley family back in 2009, when she and her husband took Mallory to China for stem cell treatment. She never thought then that this is the path life would take her down.
"It's the path that chose me," she says.
As for her sweet girls…
"Every day there are some struggles," she says. "They're behind, but they're very sassy, and they're…" she hesitates and begins to cry. "They're great!"
Source: www.wxyz.com